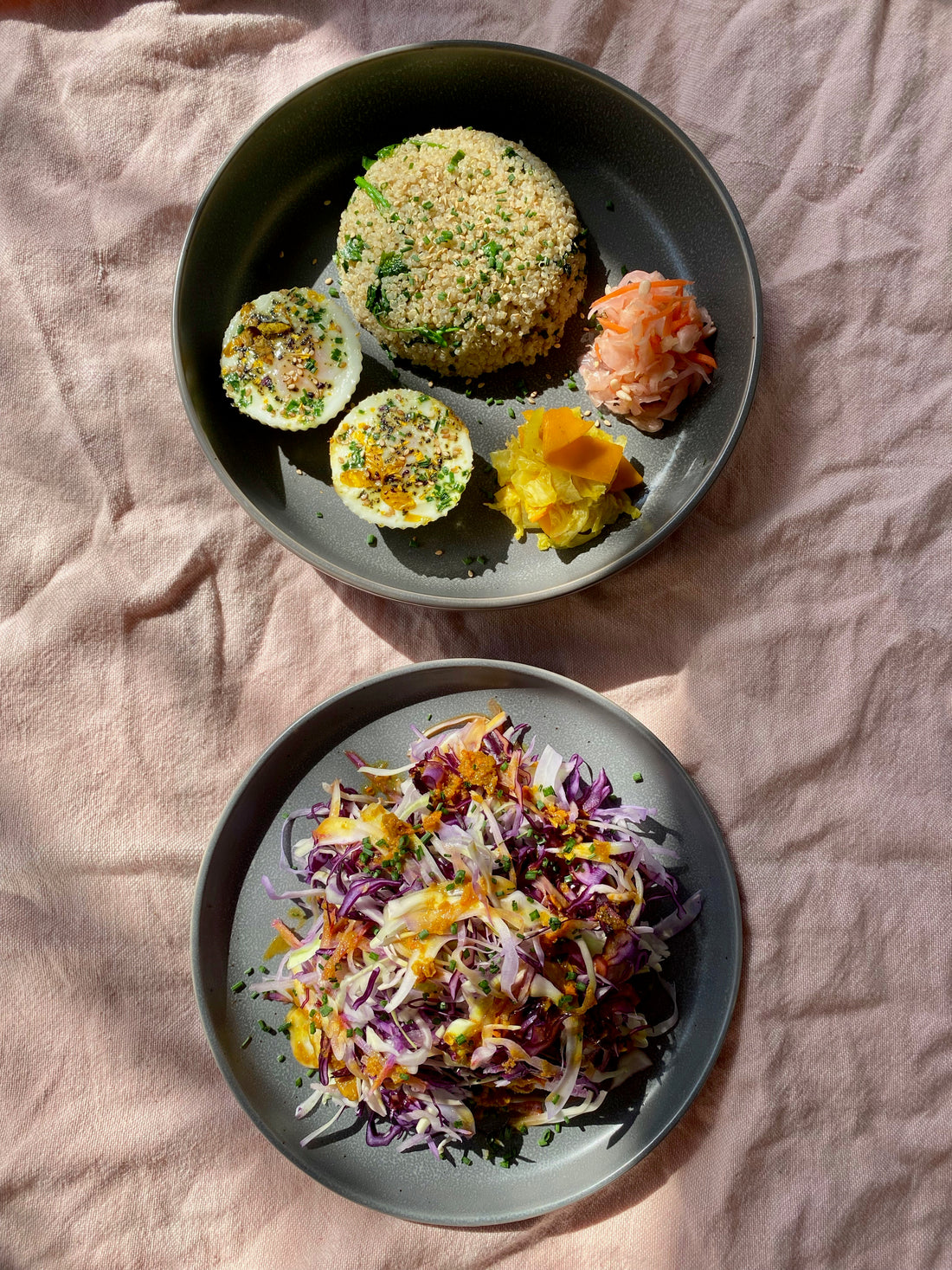 FOOD as MEDICINE meal PRE-ORDER
WEEKLY FOOD AS MEDICINE SPECIAL MADE WITH LOVE, SENTIMENTALITY & NOSTALGIA💕
A happy, healthful, delicious way to nourish and treat yourself.

Order online by SUNDAY at noon for in person pick-up in Catskill, NY and Kingston, NY.
•Cruciferous salad served with a potent medicinal dressing
•Seasonal greens folded into organic white quinoa
•Side of seasonal fermented vegetables
•2 baked petal + herb eggs finished with a fermented salt
+ a serving of our Salt of the Earth (our salty crunchy, mineral, protein rich probiotic 'multivitamin') to be enjoyed on anything and everything ✨
Enjoy a playful, satisfying and nourishing vegetarian meal made with integrity. Cooked intuitively featuring our medicinal pantry treasures in symphony with the week's sourced and foraged fresh abundance. Same spread week to week but always evolving with seasonal variables.
Always available sliding scale, so those of greater means can help those of lesser means.

Always made with our best health in mind, check our IG for the week's menu!
Your patronage makes the love go round. Thank you for your orders
🎀 
CATSKILL, NY
Ready with your name on it Tuesday morning as doors open at HILO, Catskill in our resident fridge. Hilo meal pick up is at your leisure thru the week. If you cannot make your pick-up, please consider donating it to friend to be enjoyed by Saturday.
KINGSTON, NY
Curbside pickup at our food studio in mid-town Kingston at the corner of Cornell and Bruyn (Use this pin!) Monday evenings from 5-7 and Tuesday afternoon's from 12-1. Kingston, curbside pick up is at our food studio nestled in the Cornell Creative Business Center. Text (845) 879-4502 when you're here and we'll come meet you with your order! Please be mindful of respecting our pick up window hours until we are able to grow and bend with you,  thank you!