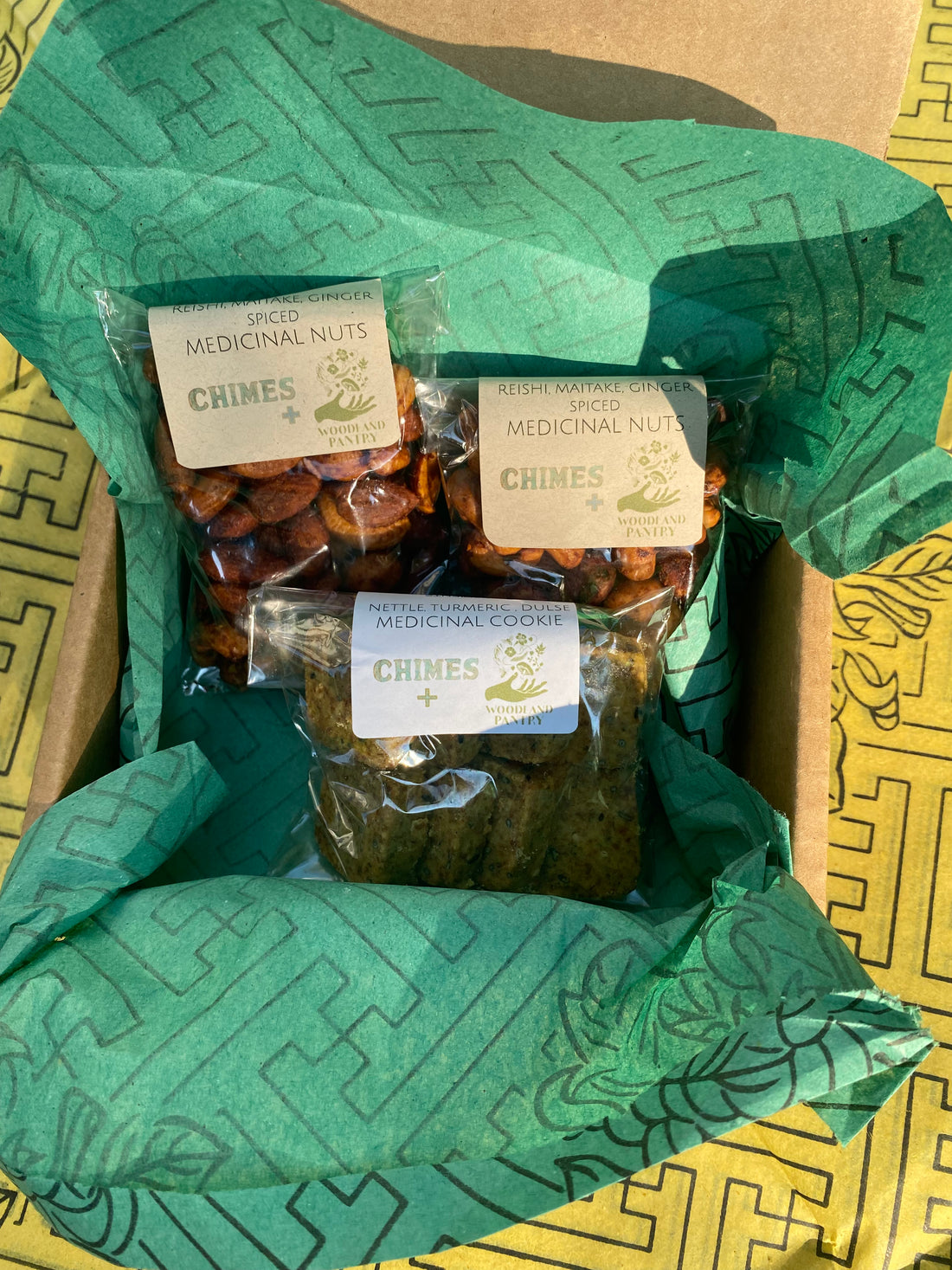 A limited release special offering of medicinal nuts and cookies to nourish, fortify and balance. Elevated treats to demonstrate self-care can be beautiful, inspiring and even a pleasure.
Anti-viral/ anti- inflammatory / adaptogenic /  immune-fortifying / cognitive support REISHI MAITAKE GINGER SPICED NUTS
Anti-inflammatory / pain relieving / adrenal support / vitamin + mineral rich NETTLE TURMERIC DULSE COOKIES
A sweet collaboration with my dear friend and peer Chimes Bakery to demonstrate the power of synergy and working with reverence from start to finish. Wildcrafted and fermented ingredients carry the energetics of generosity and gratitude just like the tender infusions from our heartened maker hands that produced this nourishment diligently with passion and integrity.
The assembly of this parcel will give opportunity to Woodland Pantry's neuro-divergent workers to have a hand in delivering this heartfelt goodness to you! In heart covered boxes by yours truly of course!
A parcel of intentional love and care from a team of grateful hands.
Treat yourself, or treat a friend or beloved.
Shipping is on us, we look forward to treating you, thank you for the pleasure!
We are extending our ticketing at sliding scale so those of greater means can support those of more modest means gain access to this offering.
Your cumulative generosity could allow for us to provide a scholarship to someone whom could really benefit from our shared resources and generosity.
Your consideration and kindness is deeply appreciated. Thank you from the bottom of our hearts.
GATHERWILD RANCH
331 Roundtop Road
Germantown, NY
12526